Roll over image to zoom in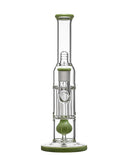 This water pipes features a pillar perc and a showerhead perc which function great with milky bubbles.
It come with 12inch height and 18.8mm joint with glass bowl.
Thick glass and sturdy base and great handifcrafts on the welding.
Free shipping for US orders will be processed by Passport International Shipping, with delivery time ranging from 10~15 days normally.

Free shipping for non-US orders will be processed by USPS, China Post or Canada Post, with delivery time of 3~4 weeks.

Expedited shipping of 3~5 days by FedEx are also available with an additional charge when required. Shipping times is estimated by shipping carrier.
Payment & Security